Snowstorm Classic #04 - 10K
December 28th, 2013
New Year's Run!
Quadrozzi and Allen close the year out with wins

Snowstorm winners Kevin Quadrozzi (35:01) and Kelsey Allen (14th overall 42:26), both of Western Mass Distance Project, wrap the year up with wins. Lyn Walker sets a new standard for 73 year-olds in a time 53:14. Lyn now owns all ages records from 65 through 73, in each the 5k AND the 10k, 18 in total!

Despite a strong showing by the WMDP, Greater Springfield Harriers etch out a slight win over the WMDP, 42:55 to 43:54, in the mixed-gender team results .

Kelsey Allen's 42:46 moves her to the top of season's 10k Best Times, while Quad's 35:01, while impressive, so far ranks 3rd, behind the excellent times posted two weeks ago by Tom O'Grady's and Cameroon Cook 33:56 and 34:56 respectively.

Also new this year is a series point standings. Like the team standings and season best times, it's just for fun - no prizes or awards will be handed out. Its just for your enjoyment while I work on my web development skills. 63 year-young Betty Quinn overtook GSH'r Kianna Eaton this week as top female point leaders. Pete Kakos of SMAC holds onto as male point leader, a lead he has held since week one.

Many, many thanks to all the volunteers: Neal Lamberton, Brian Goddu, Lee Hastletine, Craig Balderstron, Peter Fratini, Beth Kelly, Pete Vangsness, Ed Carroll, Julie Carroll, Jim Gurzenski, Doug and Mary Guertin, Brian McCarthy, and of course our ever present Race Director, Art Roberts.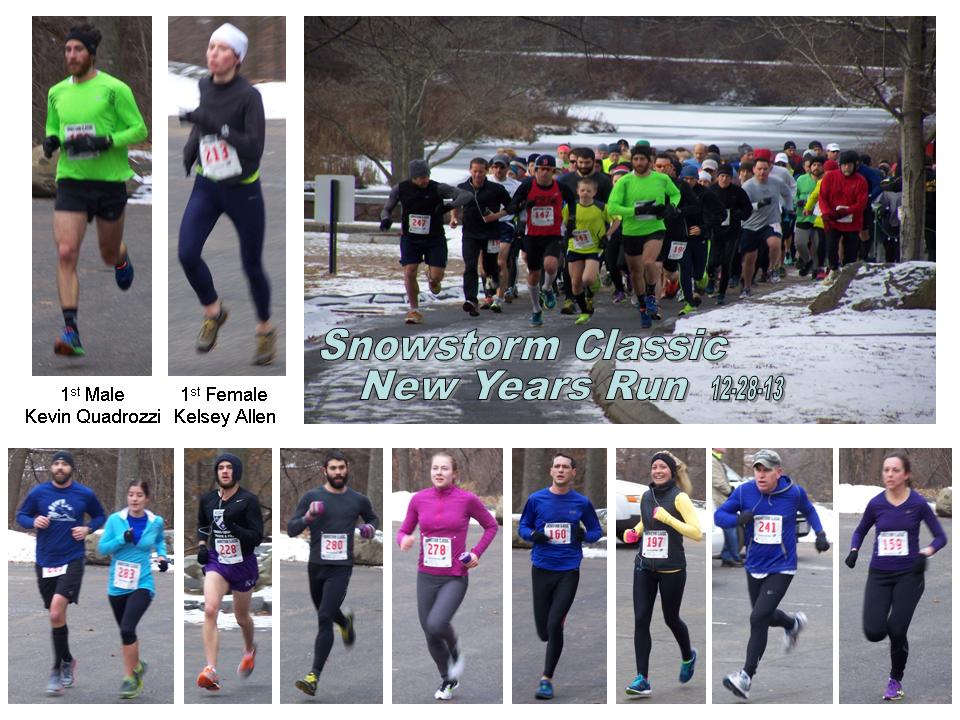 - Photo courtesy of Jim Gurzenski
A Fav song of mine "The New Year" by Death Cab For Cutie

                                           34th Annual Snowstorm Classic                                           
                                          Race# 430, Week# 4 of 12 - 10km                                          
                                            Saturday December 28, 2013                                             
                                            Forest Park, Springfield, MA                                           
                                                                                                                   
                                      Hosted by Greater Springfield Harriers                                       
                        http://www.harriers.org/SnowStorm/index.html  snowstorm@harriers.org                       
                            USATF Course Certifciations: 5km #MA12049JK, 10km #MA12048JK                           

  Place            Name             Bib#  Div/Tot    Div   Ag          City          St    Time   Pace     Club    
  =====  =========================  ====  ========  =====  ==  ====================  ==  =======  =====  ========  
 

     1  Kevin Quadrozzi             158      1/27  M2039  26                              35:01   5:39  WMDP      


      2  Andrew Niles                151      2/27  M2039  28                              37:52   6:06            
      3  Matt Sheremeta              147      1/14  M4049  46                              38:02   6:08  SMAC      
      4  Noah Gurzenski              228      1/05  M0119  19                              38:55   6:16            
      5  Tim Goric                   160      3/27  M2039  27                              38:58   6:17            
      6  Rick Sobey                  179      4/27  M2039  23  Wilbraham             MA    39:56   6:26            
      7  Ken Clark                   146      1/26  M5059  51                              40:10   6:28  HTC       
      8  Bill Carroll                143      2/05  M0119  13  Southwick             MA    40:22   6:30  GSH       
      9  Bruce Christensen           191      2/14  M4049  45                              40:23   6:30            
     10  Brian Beauvais              280      5/27  M2039  29                              41:18   6:39  EORC      
     11  Brian McCarthy              149      2/26  M5059  50  Agawam                MA    41:23   6:40  GSH       
     12  Steve Facchetti             247      3/14  M4049  41                              42:07   6:47            
     13  Robert Canssot              210      3/26  M5059  50                              42:16   6:49            
     14  Kelsey Allen                213      1/17  F2039  30                              42:26   6:50  WMDP      
     15  Clinton Morse               253      4/26  M5059  51  Somers                CT    42:45   6:53  SS        
     16  Gary Gray                   186      6/27  M2039  36                              42:48   6:54            
     17  Pete Kakos                   14      7/27  M2039  37                              42:54   6:55  SMAC      
     18  Joni Beauvais               278      2/17  F2039  29                              42:59   6:56  EORC      
     19  Carolyn Dekker              196      3/17  F2039  30                              43:48   7:03  GSH       
     20  Jennifer Holley             162      4/17  F2039  21                              43:56   7:05            
     21  Steve O'Neil                264      1/13  M6069  62  Springfield           MA    44:21   7:09  GSH       
     22  Michael Tetrault            260      3/05  M0119  15                              44:22   7:09            
     23  Miguel Ramirez              166      5/26  M5059  57  Wethersfield          CT    44:44   7:12  GSH       
     24  Henry Domnarski             165      4/05  M0119  15                              45:03   7:16            
     25  Dan Drohan                  152      5/05  M0119  17                              45:28   7:20            
     26  Kristen Goric               159      5/17  F2039  29                              45:36   7:21            
     27  Jim Ryan                    242      2/13  M6069  61  Ludlow                MA    46:16   7:27  EORC      
     28  Norm Fuller                 202      6/26  M5059  54  Ludlow                MA    46:19   7:28  WMDP      
     29  Maria Holley                148      1/05  F5059  51                              46:23   7:28            
     30  Dawn Roberts                218      1/11  F4049  42  West Springfield      MA    46:26   7:29            
     31  Vin Garofoli                163      7/26  M5059  58                              46:31   7:30  CMS       
     32  Mark Johnson                164      8/26  M5059  54                              46:37   7:31  CMS       
     33  David Perry                 237      4/14  M4049  42  Wilbraham             MA    46:43   7:32            
     34  Dan McNair                  252      8/27  M2039  39                              46:51   7:33  GSH       
     35  Michael Shea                194      9/27  M2039  28                              46:53   7:33  EORC      
     36  Mark Barile                 201     10/27  M2039  31                              46:54   7:33            
     37  Frank Rucki                 265      3/13  M6069  64                              46:58   7:34  GSH       
     38  Julie Carroll               142      1/02  F0119  15  Southwick             MA    47:24   7:38  GSH       
     39  Ramon Alicea                150      4/13  M6069  62                              47:45   7:42  GSH       
     40  Charles Dunklee             170      9/26  M5059  55                              47:48   7:42            
     41  Janet Aronson               287      2/11  F4049  47                              47:52   7:43  WMDP      
     42  Karen George                286      3/11  F4049  49                              47:53   7:43  WMDP      
     43  Abby Dunklee                171      6/17  F2039  23                              47:54   7:43            
     44  Scott Rossi                 168     10/26  M5059  50  Enfield               CT    47:56   7:43  GSH       
     45  Phil Bricker                244     11/26  M5059  59                              48:26   7:48  SMAC      
     46  Bob Viereck                 203      5/13  M6069  65                              48:32   7:49            
     47  Noah Wheeler                177     11/27  M2039  35                              48:36   7:50            
     48  Paul Rivard                   8      5/14  M4049  48                              48:38   7:50            
     49  Peter Briggeman             227     12/26  M5059  56                              48:40   7:50  HTC       
     50  Mary Guertin                235      4/11  F4049  47  Monson                MA    48:44   7:51  GSH       


  Place            Name             Bib#  Div/Tot    Div   Ag          City          St    Time   Pace     Club    
  =====  =========================  ====  ========  =====  ==  ====================  ==  =======  =====  ========  
     51  Jim Sullivan                198      6/14  M4049  48  Westfield             MA    48:44   7:51  GSH       
     52  Sean Wandrei                254     12/27  M2039  39  Agawam                MA    49:11   7:55            
     53  Todd Porter                 192     13/27  M2039  30                              49:25   7:58  SMAC      
     54  John Pashko                 185      6/13  M6069  62                              49:33   7:59  GSH       
     55  Nathan Larkin               263     14/27  M2039  29                              49:38   8:00            
     56  Robert Koonz                211     15/27  M2039  28                              49:58   8:03            
     57  Jenny Richard               200      7/17  F2039  26                              49:58   8:03            
     58  Bob Dacey                   144      7/13  M6069  64  Vernon                CT    49:59   8:03  HTC       
     59  Mark Laudati                241     13/26  M5059  55                              50:04   8:04  GSH       
     60  Bob Whiteley                276      8/13  M6069  60                              50:11   8:05            
     61  Christin Laflamme           208      8/17  F2039  32                              50:16   8:06            
     62  Gerry Boggis                175     16/27  M2039  35                              50:21   8:07            
     63  Garrett Lemek                13     14/26  M5059  53                              50:23   8:07            
     64  Joanna Olin                 239     17/27  F2039  34                              50:28   8:08            
     65  Keith Fecteau               157     15/26  M5059  54  Wilbraham             MA    50:32   8:08  GSH       
     66  Russ Lepage                 205     18/27  M2039  37                              50:36   8:09            
     67  Gerry Kane                  195      9/13  M6069  62  Wilbraham             MA    50:44   8:10            
     68  Seth Roberts                258     10/13  M6069  62  Longmeadow            MA    50:47   8:11  GSH       
     69  Deb Williams                225      5/11  F4049  43                              50:48   8:11            
     70  Doug Bielefeld              246     16/26  M5059  54  E. Longmeadow         MA    51:31   8:18  GSH       
     71  Pete Campbell               209      7/14  M4049  49                              51:45   8:20  EORC      
     72  Tamara Dominick             283      9/17  F2039  37  Wilbraham             MA    51:53   8:21            
     73  Jason Dominick              285      8/14  M4049  42  Wilbraham             MA    51:53   8:21  EORC      
     74  Ashton Demas                255     19/27  M2039  27                              51:54   8:22            
     75  Kathy McCarthy              226      2/05  F5059  55  Agawam                MA    52:19   8:26  GSH       
     76  Brian Clune                 220     20/27  M2039  37                              52:27   8:27            
     77  Tom DeLuca                  145     17/26  M5059  58  Agawam                MA    52:39   8:29  GSH       
     78  Bill Terry                  243     18/26  M5059  50                              52:39   8:29  GSH       
     79  Betty Quinn                 174      1/01  F6069  63  Springfield           MA    52:52   8:31            
     80  Steve Richardson             10     19/26  M5059  53                              53:01   8:32            
     81  Lyn Walker                  180      1/01  F7099  73                              53:14*  8:35  GSH       
     82  Kelly Sullivan              199      6/11  F4049  47  Westfield             MA    53:16   8:35  GSH       
     83  George Walker               182      1/02  M7099  70                              53:55   8:41  GSH       
     84  Jeff Harrington             173      9/14  M4049  44                              54:05   8:43            
     85  Tom Walsh                   251     20/26  M5059  58                              54:14   8:44  HTC       
     86  Naomi Tetherly              274     10/17  F2039  38  Chicopee              MA    54:18   8:45  EORC      
     87  Pete Westover               214     11/13  M6069  69                              54:28   8:46  SMAC      
     88  Kiana Eaton                 172      2/02  F0119  16                              54:40   8:48  GSH       
     89  Wayne Ball                  193     21/27  M2039  39                              54:55   8:51            
     90  Carly Keely                 256     11/17  F2039  23                              55:07   8:53            
     91  Stephanie Yeomans           219      7/11  F4049  45  Springfield           MA    55:11   8:53            
     92  Asiana Venne                222     12/17  F2039  23                              55:28   8:56            
     93  Neil Neveu                  224     22/27  M2039  34                              55:28   8:56            
     94  Darcie Hudson               233      8/11  F4049  49                              55:49   8:59            
     95  Paul Jozefczyk              277     21/26  M5059  50                              56:12   9:03            
     96  Bryon Dailey                248     22/26  M5059  59                              56:22   9:05  GSH       
     97  Kathy Dusel                 204      3/05  F5059  59                              56:31   9:06  GSH       
     98  Randy Sujat                 231     12/13  M6069  60  Chicopee              MA    57:05   9:12  GSH       
     99  Brian Goddu                   2     13/13  M6069  64                              57:31   9:16  GSH       
    100  Maura Feeney                217     13/17  F2039  30                              58:03   9:21            


  Place            Name             Bib#  Div/Tot    Div   Ag          City          St    Time   Pace     Club    
  =====  =========================  ====  ========  =====  ==  ====================  ==  =======  =====  ========  
    101  Greer Southworth-Purdy      197     23/27  M2039  29                              58:09   9:22            
    102  Derek Bushey                190     24/27  M2039  29                              58:37   9:27            
    103  Mary Muldoon                240      9/11  F4049  49  Windsor               CT    59:45   9:37            
    104  Mark Chmiel                 267     10/14  M4049  48                            1:00:18   9:43            
    105  Tony Sorcinelli             281     25/27  M2039  35                            1:00:34   9:45            
    106  Jodi Boduch                 250     14/17  F2039  36                            1:02:46  10:07            
    107  Tanya Lane                    5      4/05  F5059  53                            1:03:22  10:12            
    108  Christina Turgeon           232     15/17  F2039  37                            1:03:37  10:15            
    109  Bill Boyle                  257     23/26  M5059  57  Springfield           MA  1:03:40  10:15  EORC      
    110  Lida Vanasse                178     16/17  F2039  31                            1:04:43  10:25            
    111  Tom Fusari                  238     11/14  M4049  44                            1:04:44  10:26            
    112  Bill Lodi                   153     12/14  M4049  43                            1:04:45  10:26  GSH       
    113  Joe Giannetti               167     13/14  M4049  46                            1:04:48  10:26            
    114  Kristine Valentini          282     10/11  F4049  43  West Springfield      MA  1:05:01  10:28            
    115  Marty Loughman              229     24/26  M5059  57  Springfield           MA  1:05:19  10:31            
    116  Tim Barrett                 261     26/27  M2039  31                            1:05:21  10:32            
    117  Nick Deangelis              230     14/14  M4049  44  Springfield           MA  1:05:21  10:32            
    118  Don Grant                   221      2/02  M7099  71                            1:05:51  10:36  SMAC      
    119  Roz Terry                   206      5/05  F5059  50                            1:07:59  10:57            
    120  Rebecca Lambert             183     17/17  F2039  20                            1:08:50  11:05            
    121  Norm Roy                    184     25/26  M5059  50                            1:08:50  11:05            
    122  Renee Pouliot               266     11/11  F4049  48                            1:15:00  12:05  EORC      
    123  Jesus Dereria               234     27/27  M2039  35                            1:15:01  12:05            
    124  John Plata                  161     26/26  M5059  51  Corona                NY  1:59:30  19:14  HTC       

* AGE RECORD

  F73 Lyn Walker                53:14 12/28/13  Old Record: 



================================================================================
                                  TEAM RESULTS                                  
                            COMBINED GENDER, ALL AGES                           
================================================================================


  1.   82   GSH Greater Springfield Harriers    (Avg:   42:55  Tot:  3:34:38  Spread:  4:22)
============================================================
  1     8   Bill Carroll                  M 13     40:22
  2    11   Brian McCarthy                M 50     41:23
  3    19   Carolyn Dekker                F 30     43:48
  4    21   Steve O'Neil                  M 62     44:21
  5    23   Miguel Ramirez                M 57     44:44
  6  ( 34)  Dan McNair                    M 39  (  46:51)
  7  ( 37)  Frank Rucki                   M 64  (  46:58)
  8  ( 38)  Julie Carroll                 F 15  (  47:24)


  2.  126   WMDP Western Mass Distance Project  (Avg:   43:54  Tot:  3:39:31  Spread: 12:52)
============================================================
  1     1   Kevin Quadrozzi               M 26     35:01
  2    14   Kelsey Allen                  F 30     42:26
  3    28   Norm Fuller                   M 54     46:19
  4    41   Janet Aronson                 F 47     47:52
  5    42   Karen George                  F 49     47:53


  3.  161   EORC Empire One Running Club        (Avg:   45:50  Tot:  3:49:11  Spread: 10:27)
============================================================
  1    10   Brian Beauvais                M 29     41:18
  2    18   Joni Beauvais                 F 29     42:59
  3    27   Jim Ryan                      M 61     46:16
  4    35   Michael Shea                  M 28     46:53
  5    71   Pete Campbell                 M 49     51:45
  6  ( 73)  Jason Dominick                M 42  (  51:53)
  7  ( 86)  Naomi Tetherly                F 38  (  54:18)
  8  (109)  Bill Boyle                    M 57  (1:03:40)


  4.  205   SMAC Sugarloaf Moutain Athletic Cl  (Avg:   46:39  Tot:  3:53:15  Spread: 16:26)
============================================================
  1     3   Matt Sheremeta                M 46     38:02
  2    17   Pete Kakos                    M 37     42:54
  3    45   Phil Bricker                  M 59     48:26
  4    53   Todd Porter                   M 30     49:25
  5    87   Pete Westover                 M 69     54:28
  6  (118)  Don Grant                     M 71  (1:05:51)


  5.  323   HTC Hartford Track Club             (Avg: 1:02:30  Tot:  5:12:33  Spread: 1:19:20)
============================================================
  1     7   Ken Clark                     M 51     40:10
  2    49   Peter Briggeman               M 56     48:40
  3    58   Bob Dacey                     M 64     49:59
  4    85   Tom Walsh                     M 58     54:14
  5   124   John Plata                    M 51   1:59:30


            CMS Central Mass Striders           (Avg:          Tot:           Spread:      )
============================================================
  1    31   Vin Garofoli                  M 58     46:31
  2    32   Mark Johnson                  M 54     46:37


            SS Shenipsit Striders               (Avg:          Tot:           Spread:      )
============================================================
  1    15   Clinton Morse                 M 51     42:45