Snowstorm Classic
Week #8 - 10K
January 25th, 2014
David Johnson and Donna Kay-Ness heat up the streets
A couple of local stars descended onto Forest Park this week. Ludlow High and UMass-Amherst grad David Johnson lead the Western Mass Distance Project to its second team title over host Greater Springfield Harriers by an average time of 37:10 to 43:35. WMDP owned the top four spots as David and Jason Ayr controlled the race the entire way with Matt Weissinger and Ivan Cordero following close behind.

The performance of the week was delivered by local ironwoman and 50-year-strong Donna Kay-Ness. Donna lead all females and was 6th overall in a sizzling 40:08, eclipsing nearly two minutes the previous age record of another top road ace Mary Ryczek (42:02).

There's been a changing of the guard during my two week absence, as Dan McNair takes the lead overall as the most consistent performer this season. With four weeks reamining Dan's 93 point lead may prove enough to hold off Aston Demas in the male points standings. Stephanie Yeomans sits atop the female point standings by a slightly larger spread - 5389 points to GSH'r Mary Guertin's 5116. Who will be on top at seasons end? Stay tuned.


Many, many thanks to all the volunteers: Neal Lamberton, Brian Goddu, Lee Hastletine, Craig Balderstron, Paul Fratini, Pete Vangsness, Beth Kelly, Ed Carroll, Bill Carroll, Julie Carroll, Jim Gurzenski, and of course Race Director, Art Roberts.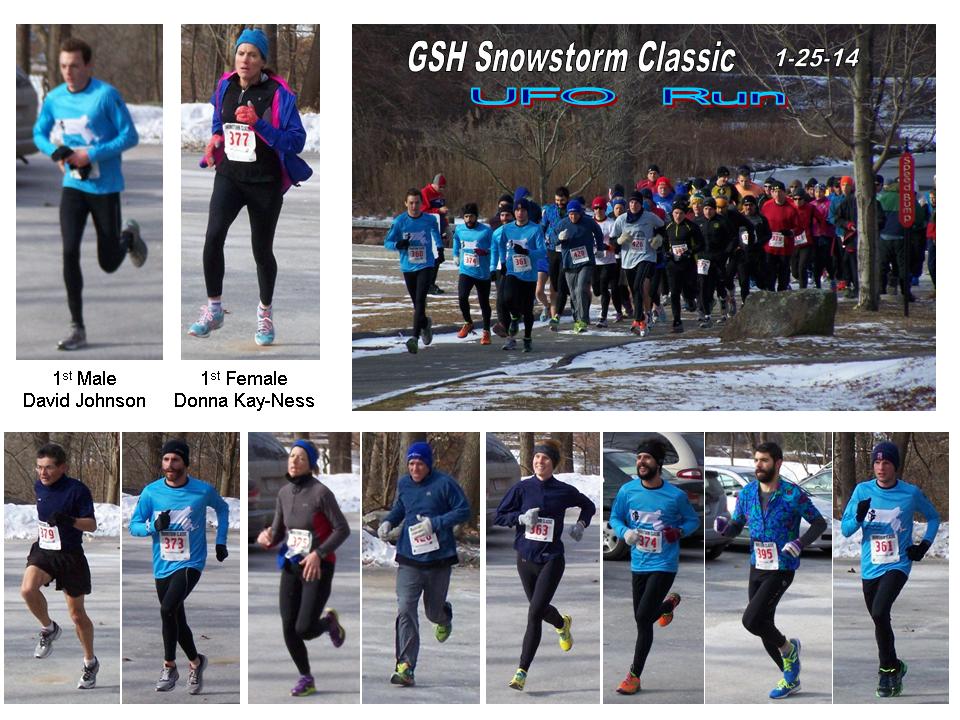 Photo: Jim Gurzenski

                                                   34th Annual Snowstorm Classic                                           
                                                  Race# 434, Week 8 of 12 - 10km                                           
                                                     Saturday January 25, 2014                                             
                                                   Forest Park, Springfield, MA                                            
                                                                 -                                                         
                                              Hosted by Greater Springfield Harriers                                       
                               http://www.harriers.org/SnowStorm/index.html  snowstorm@harriers.org                        
                                   USATF Course Certifciations: 5km #MA12049JK, 10km #MA12048JK                            
                                                                                                                           
        
        Place            Name             Bib#  Div/Tot    Div   Ag          City          St   Time    Pace     Club      
        =====  =========================  ====  ========  =====  ==  ====================  ==  =======  =====  ========    


            1  David Johnson               360      1/18  M2039  25  Ludlow                MA    34:11   5:31  WMDP        


            2  Jason Ayr                   373      2/18  M2039  26                              34:21   5:32  WMDP        
            3  Matt Weissinger             361      3/18  M2039  26                              35:55   5:47  WMDP        
            4  Ivan Cordero                374      4/18  M2039  27  Springfield           MA    36:51   5:56  WMDP        
            5  John Minervino              372      1/16  M5059  50                              39:58   6:26              
            6  Donna Kay-Ness              377      1/02  F5059  50                              40:08*  6:28              
            7  Geoff Gagnon                396      5/18  M2039  31                              40:49   6:35  GSH         
            8  Alexander Kubacki           378      1/08  M4049  47                              41:36   6:42              
            9  Clinton Morse               369      2/16  M5059  51  Somers                CT    42:03   6:47  SS          
           10  Steve O'Neil                426      1/08  M6069  62  Springfield           MA    42:30   6:51  GSH         
           11  Pete Kakos                   14      6/18  M2039  37                              42:50   6:54  SMAC        
           12  Miguel Ramirez              379      3/16  M5059  57  Wethersfield          CT    44:28   7:10  GSH         
           13  Abby Mahoney                363      1/07  F2039  35                              44:34   7:11  WMDP        
           14  Doug Guertin                399      4/16  M5059  50  Monson                MA    44:41   7:12  GSH         
           15  Brian Beauvis               395      7/18  M2039  29                              44:47   7:13  EORC        
           16  Martha Berrouard            375      1/08  F4049  47                              45:19   7:18              
           17  David Perry                 423      2/08  M4049  42  Wilbraham             MA    45:20   7:18              
           18  Rich Clark                  388      5/16  M5059  59  Feeding Hills         MA    45:31   7:20  GSH         
           19  Ashton Demas                438      8/18  M2039  28                              46:01   7:25              
           20  Michael Tetrault            445      1/01  M0119  15                              46:24   7:29              
           21  Mark Barile                 383      9/18  M2039  31                              46:26   7:29              
           22  Dan McNair                  424     10/18  M2039  39                              46:30   7:30  GSH         
           23  Mary Guertin                400      2/08  F4049  47  Monson                MA    47:07   7:35  GSH         
           24  Larry Walker                393      3/08  M4049  48                              47:22   7:38              
           25  Billy Rowe                  428      6/16  M5059  52                              48:39   7:50  GSH         
           26  Paul Rivard                   8      4/08  M4049  48                              48:43   7:51              
           27  Nathan Larkin               416     11/18  M2039  29                              49:06   7:55              
           28  David Hauver                444     12/18  M2039  32                              49:36   7:59  EORC        
           29  Frank Rucki                 443      2/08  M6069  64                              50:07   8:04  GSH         
           30  Angel Ramos                 376      5/08  M4049  43                              50:15   8:06              
           31  Mark Laudati                386      7/16  M5059  55                              50:25   8:07  GSH         
           32  Ian Lane                    407     13/18  M2039  34                              50:39   8:10              
           33  Joanna Olin                 408     14/18  M2039  34                              50:43   8:10              
           34  Jessica Harwood             390      2/07  F2039  34                              51:05   8:14              
           35  Tom DeLuca                  421      8/16  M5059  58  Agawam                MA    51:35   8:19  GSH         
           36  Gerry Kane                  402      3/08  M6069  62  Wilbraham             MA    52:00   8:23              
           37  Jeff Harrington             385      6/08  M4049  45                              52:02   8:23              
           38  Seth Roberts                425      4/08  M6069  62  Longmeadow            MA    52:27   8:27  GSH         
           39  Pete Campbell               409      9/16  M5059  50                              52:39   8:29  EORC        
           40  Derek Bushey                418     15/18  M2039  29                              52:40   8:29              
           41  George Walker               411      1/03  M7099  70                              53:00   8:32  GSH         
           42  Matthew Kwiatkowski         366     16/18  M2039  29                              53:02   8:33              
           43  Tim Londo                   406      7/08  M4049  46  West Springfield      MA    53:04   8:33  GSH         
           44  Maura Devlin                412      3/08  F4049  48                              53:13   8:34              
           45  Joe Giannetti               413      8/08  M4049  46                              53:14   8:35              
           46  Darcie Hudson               368      4/08  F4049  49                              55:06   8:53              
           47  Steve Richardson             10     10/16  M5059  53                              55:13   8:54              
           48  Brian Goddu                   2      5/08  M6069  64                              55:15   8:54  GSH         
           49  Tony Sorcinelli             420     17/18  M2039  35                              55:36   8:57              
           50  Stephanie Yeomans           382      5/08  F4049  45  Springfield           MA    56:00   9:01              
           51  Winston Nunes               381      6/08  M6069  65  Springfield           MA    56:11   9:03  GSH         
           52  Terry Shotland              389     11/16  M5059  58                              56:13   9:03              
           53  Scott Sanderson             380     12/16  M5059  50                              56:53   9:10              
           54  Maura Feeney                405      3/07  F2039  30                              57:31   9:16              
           55  Christine Surrette          391      4/07  F2039  33                              57:40   9:17              
           56  Patty Woods                 364      5/07  F2039  37                              58:00   9:21              
           57  Randy Sujat                 410      7/08  M6069  60  Chicopee              MA    58:37   9:27  GSH         
           58  Bryon Dailey                392     13/16  M5059  59  Springfield           MA    59:12   9:32  GSH         
           59  Jim Liebel                  404      8/08  M6069  65  Springfield           MA  1:00:46   9:47  GSH         
           60  Elizabeth Tallis            387      6/07  F2039  27                            1:00:58   9:49              
           61  Jack Egan                   414     14/16  M5059  55  Ludlow                MA  1:02:38  10:05              
           62  Cindy Bolger                384      2/02  F5059  53  Wilbraham             MA  1:02:57  10:08  GSH         
           63  Kristine Valentini          429      6/08  F4049  43  West Springfield      MA  1:03:19  10:12              
           64  Bernadette Leal             417      7/08  F4049  46  Ludlow                MA  1:04:21  10:22              
           65  Tim Barrett                 422     18/18  M2039  31                            1:04:25  10:23              
           66  Christina Turgeon           419      7/07  F2039  37                            1:04:42  10:25              
           67  Marty Loughman              427     15/16  M5059  57  Springfield           MA  1:04:48  10:26              
           68  Bill Boyle                  415     16/16  M5059  57  Springfield           MA  1:05:31  10:33  EORC        
           69  Don Grant                   371      2/03  M7099  71                            1:08:07  10:58  SMAC        
           70  Bob Massaro                 365      3/03  M7099  70                            1:09:09  11:08  EORC        
           71  Renee Pouliot               442      8/08  F4049  48                            1:14:55  12:04  EORC        
        
        * AGE RECORD
        


          F50 Donna Kay-Ness            40:08 01/25/14  Old Record:  Mary Ryczek               42:02 


        
        
        
        ================================================================================
                                          TEAM RESULTS                                  
                                   COMBINED GENDER, ALL AGES                            
        ================================================================================
        
        
        
          1.   23   WMDP Western Mass Distance Project  (Avg:   37:10  Tot:  3:05:52  Spread: 10:23)
        ============================================================
          1     1   David Johnson                 M 25     34:11
          2     2   Jason Ayr                     M 26     34:21
          3     3   Matt Weissinger               M 26     35:55
          4     4   Ivan Cordero                  M 27     36:51
          5    13   Abby Mahoney                  F 35     44:34
        
        
          2.   61   GSH Greater Springfield Harriers    (Avg:   43:35  Tot:  3:37:59  Spread:  4:42)
        ============================================================
          1     7   Geoff Gagnon                  M 31     40:49
          2    10   Steve O'Neil                  M 62     42:30
          3    12   Miguel Ramirez                M 57     44:28
          4    14   Doug Guertin                  M 50     44:41
          5    18   Rich Clark                    M 59     45:31
          6  ( 22)  Dan McNair                    M 39  (  46:30)
          7  ( 23)  Mary Guertin                  F 47  (  47:07)
          8  ( 25)  Billy Rowe                    M 52  (  48:39)
        
        
          3.  220   EORC Empire One Running Club        (Avg:   56:20  Tot:  4:41:42  Spread: 24:22)
        ============================================================
          1    15   Brian Beauvis                 M 29     44:47
          2    28   David Hauver                  M 32     49:36
          3    39   Pete Campbell                 M 50     52:39
          4    68   Bill Boyle                    M 57   1:05:31
          5    70   Bob Massaro                   M 70   1:09:09
          6  ( 71)  Renee Pouliot                 F 48  (1:14:55)
        
        
                    SMAC Sugarloaf Moutain Athletic Cl  (Avg:          Tot:           Spread:      )
        ============================================================
          1    11   Pete Kakos                    M 37     42:50
          2    69   Don Grant                     M 71   1:08:07
        
        
                    SS Shenipsit Striders               (Avg:          Tot:           Spread:      )
        ============================================================
          1     9   Clinton Morse                 M 51     42:03
        
        Results produced by Rob Landry, GSH
        
        Errors? Name hopelessly misspelled? Submit corrections 'rlandry' AT 'harriers.org'
        Last Modified: 1/28/2014 9:41:46 PM