Bringing in the New Year with Two New Winners
The last race of the year brought an end to the three-week-reign as first-timer Marissa Donato (45:16) dethroned Dawn Roberts (46:35) while yours truly, Bob Landry, (38:37) picked up my 2nd Snowstorm Classic victory in the absence of three-time winner and point series leader Dennis Roche. A quick thank you to Race Director Art Roberts for finishing up registration entries so I could dash out to the start line and get in one last race in 2016.

On a seasonably cool day, around 24 degrees at race time, 110 runners cautiously headed up a slick Porter Lake Dam Rd. Bruce Christensen set the early pace with myself and Joe Kenney following closely behind hitting mile one right around 6:30. It wasn't far into the 2nd mile when the roads cleared up and the trio drew even. From there on, it was Joe, myself and Bruce establishing our positions as the top 3 on the men's side. In the women's race, it was Marissa Donato winning in her first Snowstorm race ever, with Dawn Roberts placing 2nd in her 100th race. Alley Mooney takes 3rd who like Marissa was competing in her first ever Snowstorm race.

Seven weeks remain in the point series and Dawn Roberts and Colleen Cummings (4th, 49:16) remain in 1st and 2nd place while Mary Guertin moves into 3rd overall in the female standings.

Meanwhile point series leaders Dennis and Mark Rabasco of Western Mass Distance Project relinquished their top spots to compete in Boston at the BU Mini-Meet. The WMDP team took 1st place in the feature event Lou's 4x1600 Relay in a combined time of 17:38. That's an average 1600 of just 4:24!

With both Dennis and Mark not scoring this week, the men's point series just got interesting. Bruce Christensen, Ken Clark and Matt Geanacopoulos jump into the top 3 spots in the male standings. The 700+ point difference between Bruce and Dennis means Dennis has his work cut out for him if he is to reclaim his top spot.

In the team scoring Greater Springfield Harriers had a solid showing with an average time of 41:41 prevailed over Empire One Running Club (54:07).

Thanks to all our volunteers: Peter Fratini, Craig Balderston, Ed Carroll, Brian Goddu, Peter Vangsness, Neal Lamberton, Doug Geurtin, Mary Guertin and Race Director Art Roberts
Apologies if I forget anyone..
- Bob Landry, GSH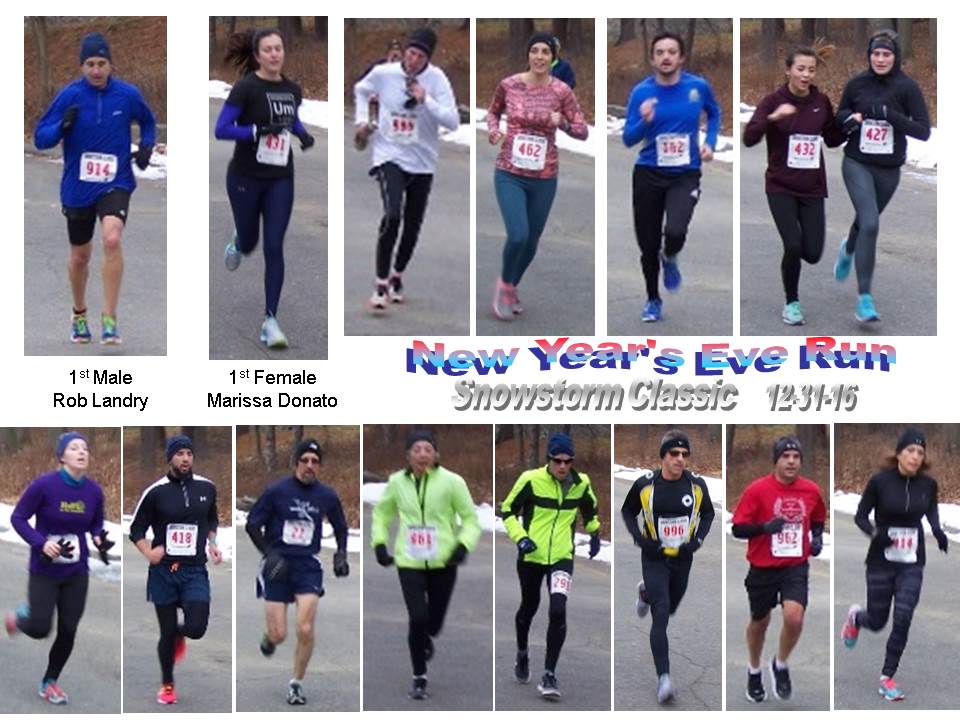 Photo courtesy of Jim Gurzenski
                                             37th Annual Snowstorm Classic                                              
                                             Race# 469, Week 5 of 13 - 10km                                             
                                               Saturday December 31, 2016                                               
                                              Forest Park, Springfield, MA                                              
                              USATF Course Certifciations: 5km #MA12049JK, 10km #MA12048JK                              
                                                           -                                                            
                                         Hosted by Greater Springfield Harriers                                         
                          http://www.harriers.org/SnowStorm/index.html  snowstorm@harriers.org                          

Place            Name             Bib#  Div/Tot    Div   Ag   Time    Pace     Club    Points                           
=====  =========================  ====  ========  =====  ==  =======  =====  ========  ======                           
    1  Bob Landry                  914      1/18  M4049  48    38:37   6:13  GSH         1000                           
    2  Joe Kenney                  413      1/19  M2039  32    40:01   6:27               965                           
    3  Bruce Christensen           978      2/18  M4049  48    40:14   6:29               959                           
    4  Matthew Killian             418      2/19  M2039  36    40:52   6:35               944                           
    5  Michael Shea                151      3/19  M2039  31    41:55   6:45  EORC         921                           
    6  Ken Clark                    22      1/17  M5059  54    42:06   6:47  GSH          917                           
    7  Mike Lescarbeau             962      3/18  M4049  46    42:19   6:49  GSH          912                           
    8  Luke Hodge                  960      4/18  M4049  48    42:33   6:51               907                           
    9  Bob Goodrow                 996      1/14  M6069  60    42:39   6:52  GSH          905                           
   10  Ryan Merceri                967      4/19  M2039  28    42:44   6:53  GSH          903                           
   11  Sean Harper                 295      5/19  M2039  28    42:45   6:53               903                           
   12  Gareth Buckley              350      5/18  M4049  40    43:05   6:57               896                           
   13  Matt Geanacopoulos          162      6/19  M2039  28    43:39   7:02  WMDP         884                           
   14  Steve Virgadaula            956      2/17  M5059  56    43:54   7:04  GSH          879                           
   15  Dan McNair                  907      6/18  M4049  42    44:18   7:08  GSH          871                           
   16  Marissa Donato              431      1/17  F2039  31    45:16   7:18               853                           
   17  Brandon Hayward             395      7/18  M4049  41    45:25   7:19               850                           
   18  Joe Nichols                 990      8/18  M4049  49    45:40   7:21  EORC         845                           
   19  Derek Bushey                958      7/19  M2039  32    46:07   7:26               837                           
   20  Norm Fuller                 120      3/17  M5059  57    46:24   7:29  WMDP         832                           
   21  Dawn Roberts                101      1/06  F4049  45    46:35   7:30  WMDP         828                           
   22  Steve O'Neil                986      2/14  M6069  65    47:43   7:41  GSH          809                           
   23  Clinton Morse               968      4/17  M5059  54    47:46   7:42  SS           808                           
   24  Shawn Rairigh               451      9/18  M4049  41    47:48   7:42               807                           
   25  David Perry                 475     10/18  M4049  45    48:38   7:50               794                           
   26  Jim Ryan                    915      3/14  M6069  64    48:51   7:52               790                           
   27  Ally Mooney                 433      2/06  F4049  40    49:02   7:54               787                           
   28  Colleen Cummings            981      1/06  F5059  50    49:16   7:56  GSH          783                           
   29  Mary Thomas                 414      3/06  F4049  40    50:04   8:04               771                           
   30  Jenny Koonz                 190      2/17  F2039  29    50:08   8:05               770                           
   31  Bob Koonz                   455      8/19  M2039  31    50:09   8:05               770                           
   32  Charles Joyal               359     11/18  M4049  47    50:10   8:05  GSH          769                           
   33  Michaela Kenney             427      1/04  F0119  15    50:25   8:07               765                           
   34  Tien Bui                    432      2/04  F0119  17    50:26   8:07               765                           
   35  Chad Joyal                  425      9/19  M2039  20    50:31   8:08               764                           
   36  Ian Erly                    467     10/19  M2039  27    50:42   8:10               761                           
   37  Danielle Laliberte          462      3/17  F2039  28    51:03   8:13               756                           
   38  Richard Clark               100      4/14  M6069  62    51:06   8:14  GSH          755                           
   39  Frank Rucki                 276      5/14  M6069  67    51:14   8:15  GSH          753                           
   40  Peter Briggeman             969      5/17  M5059  59    51:40   8:19  HTC          747                           
   41  Tom Fusari                  342     12/18  M4049  47    51:40   8:19               747                           
   42  Rumbila Abdullahi           459      3/04  F0119  19    51:41   8:20               747                           
   43  Ibrahim Abdi                421     11/19  M2039  21    51:42   8:20               746                           
   44  Katie Hakanson-Stacy        477      4/17  F2039  25    51:43   8:20               746                           
   45  Mary Guertin                 57      2/06  F5059  50    51:47   8:21  GSH          745                           
   46  Bill Lodi                    53     13/18  M4049  46    51:48   8:21  GSH          745                           
   47  Gerry Keavany               966      6/17  M5059  57    51:49   8:21               745                           
   48  Bob Viereck                 454      6/14  M6069  68    51:50   8:21               745                           
   49  Doug Guertin                 56      7/17  M5059  53    51:50   8:21  GSH          745                           
   50  Rogina Modestow             341      3/06  F5059  55    52:28   8:27  GSH          736                           
   51  Jorge Sosa                   46     14/18  M4049  40    52:56   8:32               729                           
   52  Garrett Lemek                16      8/17  M5059  56    53:03   8:33               727                           
   53  Kathy Dusel                 281      1/03  F6069  62    53:16   8:35  GSH          724                           
   54  Robert Olsen                124      9/17  M5059  53    53:16   8:35  GSH          724                           
   55  Michael Smith               463     12/19  M2039  27    53:38   8:38               720                           
   56  Gabriella Peterson          993      4/04  F0119  15    53:39   8:39               719                           
   57  Sean Wandrei                802     15/18  M4049  42    53:41   8:39               719                           
   58  Chris Thornton              940     16/18  M4049  43    53:42   8:39               719                           
   59  Lauren Koester             1003      4/06  F4049  40    53:45   8:40               718                           
   60  Royce Yeomans              1001     10/17  M5059  52    53:47   8:40               718                           
   61  Pete Campbell               632     11/17  M5059  52    53:56   8:41               716                           
   62  Jay Laliberte               461     12/17  M5059  56    54:01   8:42               714                           
   63  Pete Westover               134      1/04  M7099  72    54:19   8:45  SMAC         710                           
   64  Tom Deluca                  974      7/14  M6069  61    54:20   8:45  GSH          710                           
   65  Stephen Brault              152     13/17  M5059  53    54:22   8:45               710                           
   66  Norm Cormier                179      8/14  M6069  63    54:24   8:46  SS           709                           
   67  Gerry Kane                  122      9/14  M6069  65    54:28   8:46               708                           
   68  Richard Knurek              466     10/14  M6069  68    54:29   8:47               708                           
   69  Rachel Lyons                417      5/17  F2039  21    54:54   8:51               703                           
   70  Kit Rosen                   437      6/17  F2039  21    54:54   8:51               703                           
   71  Allie Crews                 438      7/17  F2039  22    54:55   8:51               703                           
   72  Stephanie Yeomans            44      5/06  F4049  48    55:06   8:53  GSH          700                           
   73  Matt Bruton                 426     13/19  M2039  29    55:14   8:54               699                           
   74  David Bruton                366     14/17  M5059  56    55:14   8:54               699                           
   75  Lyn Walker                  961      1/01  F7099  76    55:38*  8:58  GSH          694                           
   76  Samantha Boyden             121      8/17  F2039  30    55:48   8:59               692                           
   77  Kate Montagna               435      9/17  F2039  32    55:50   9:00               691                           
   78  Hilary Hayden-Moryl         415     10/17  F2039  39    56:01   9:01               689                           
   79  Kayla Slessler              480     11/17  F2039  32    56:03   9:02               688                           
   80  Jason Dominick              481     17/18  M4049  45    56:04   9:02               688                           
   81  George Walker               291      2/04  M7099  73    56:21   9:05  GSH          685                           
   82  Terry Shotland              420     11/14  M6069  61    57:00   9:11               677                           
   83  Jason Snukis                419     14/19  M2039  37    57:12   9:13               675                           
   84  Betty Quinn                 571      2/03  F6069  66    57:20   9:14               673                           
   85  Mark Brooks                 416     15/17  M5059  59    57:33   9:16  CMS          671                           
   86  Erin Ferraro                577     12/17  F2039  31    57:59   9:20  MRC          665                           
   87  Penny Ryan                  434      4/06  F5059  59    58:33   9:26  CMS          659                           
   88  Connell Clark               460     15/19  M2039  37    59:46   9:38               646                           
   89  Louis Disessa               992      3/04  M7099  72  1:00:21   9:43  EORC         639                           
   90  Steve Richardson             52     16/17  M5059  56  1:00:52   9:48  EORC         634                           
   91  Louise Melanson             411      5/06  F5059  56  1:01:21   9:53               629                           
   92  Matt Nichols                424     16/19  M2039  23  1:01:47   9:57  EORC         625                           
   93  Casey Kwiecienski           159     18/18  M4049  40  1:01:49   9:57               624                           
   94  Mary Muldoon                442      6/06  F5059  52  1:02:19  10:02               619                           
   95  Renee Lodi                  185     13/17  F2039  38  1:02:45  10:06               615                           
   96  Tony Sorcinelli             485     17/19  M2039  38  1:02:53  10:08               614                           
   97  Leigh Zlotkowski            160     14/17  F2039  37  1:03:06  10:10               611                           
   98  Tom Walsh                   478     12/14  M6069  61  1:05:10  10:30  HTC          592                           
   99  Braeden Gallagher           379      1/01  M0119   8  1:06:06  10:39               584                           
  100  Cassy Bourque               476     15/17  F2039  35  1:06:07  10:39               584                           
  101  Maura Feeney                465     16/17  F2039  33  1:06:19  10:41               582                           
  102  Debbie Cormier              180      3/03  F6069  60  1:06:52  10:46               577                           
  103  Kristine Valentini           45      6/06  F4049  46  1:07:14  10:50  EORC         574                           
  104  James Liebel                964     13/14  M6069  68  1:14:10  11:57               520                           
  105  Anthony Leroux              989     18/19  M2039  32  1:14:39  12:01               517                           
  106  Amielu Ouellette            988     17/17  F2039  38  1:14:40  12:01               517                           
  107  Ken Wetzel                  429     17/17  M5059  54  1:17:27  12:28               498                           
  108  Keith Hughes                428     19/19  M2039  34  1:17:28  12:29               498                           
  109  Brian Goddu                   2     14/14  M6069  67  1:18:00  12:34  GSH          495                           
  110  Don Grant                    47      4/04  M7099  74  1:27:07  14:02  SMAC         443                           

* AGE RECORD

  F76 Lyn Walker                55:38 12/31/16  Old Record: None



                                  TEAM RESULTS                                  
====================================================================================================
                                            TEAM RESULTS                                            
                          COMBINED GENDER, ALL AGES,  SCORE BY TIME TOP 5                           
====================================================================================================

  1.   19   GSH Greater Springfield Harriers    (  41:41   3:28:25   4:07)
============================================================
  1     1   Bob Landry                    M 48     38:37
  2     3   Ken Clark                     M 54     42:06
  3     4   Mike Lescarbeau               M 46     42:19
  4     5   Bob Goodrow                   M 60     42:39
  5     6   Ryan Merceri                  M 28     42:44
  6  (  7)  Steve Virgadaula              M 56  (  43:54)
  7  (  8)  Dan McNair                    M 42  (  44:18)
  8  ( 10)  Steve O'Neil                  M 65  (  47:43)

  2.   47   EORC Empire One Running Club        (  54:07   4:30:35  19:52)
============================================================
  1     2   Michael Shea                  M 31     41:55
  2     9   Joe Nichols                   M 49     45:40
  3    11   Louis Disessa                 M 72   1:00:21
  4    12   Steve Richardson              M 56   1:00:52
  5    13   Matt Nichols                  M 23   1:01:47
  6  ( 14)  Kristine Valentini            F 46  (1:07:14)

            CMS Central Mass Striders           (              :00       )
============================================================
  1  (  0)  Mark Brooks                   M 59  (  57:33)
  2  (  0)  Penny Ryan                    F 59  (  58:33)

            HTC Hartford Track Club             (              :00       )
============================================================
  1  (  0)  Peter Briggeman               M 59  (  51:40)
  2  (  0)  Tom Walsh                     M 61  (1:05:10)

            MRC Manchester Running Company      (              :00       )
============================================================
  1  (  0)  Erin Ferraro                  F 31  (  57:59)

            SMAC Sugarloaf Moutain Athletic Cl  (              :00       )
============================================================
  1  (  0)  Pete Westover                 M 72  (  54:19)
  2  (  0)  Don Grant                     M 74  (1:27:07)

            SS Shenipsit Striders               (              :00       )
============================================================
  1  (  0)  Clinton Morse                 M 54  (  47:46)
  2  (  0)  Norm Cormier                  M 63  (  54:24)

            WMDP Western Mass Distance Project  (              :00       )
============================================================
  1  (  0)  Matt Geanacopoulos            M 28  (  43:39)
  2  (  0)  Norm Fuller                   M 57  (  46:24)
  3  (  0)  Dawn Roberts                  F 45  (  46:35)

Results produced by Rob Landry & Greater Springfield Harriers
-
REPORT DATE: 1/1/2017 8:36:39 PM