Snowstorm:


Snowstorm Classic #8 - 5K
January 19th, 2013
Young and old have their day

Early teens Bill Carroll and Madi Eline top the leaderboard
Super, Super Vet Ray Willis sets age record

While we've had several winners in thier mid and even early teens in the past, this may the first time both the male and female winners were both of such a young age. 12 year young Greater Springfield Harrier Billy Carroll (19:26) took the overall while 14 year young Madi Eline (21:40, 11th overall) edged out Billy's sister Julie Carroll (21:43, 13th overall) in the final yards to not just take the youth F1-19 age division but also for lead all females.

Way, way on the other side of the age spectrum Sugarloaf Mountain AC's 83 years young Ray Willis established a new mark at 36:03.

Many thanks to this weeks volunteers: Neal Lamberton, Brian Goddu, Lee Hastletine, Craig Balderstron, Peter Fratini, Pete Vangsness, Bill Carroll, Ed Carroll, Jim Gurznski, Bruce Kurtz and of course our ever present Race Director Art Roberts.

Apoligies, if I forget anyone - please let me know. Your help is greatly appeciated!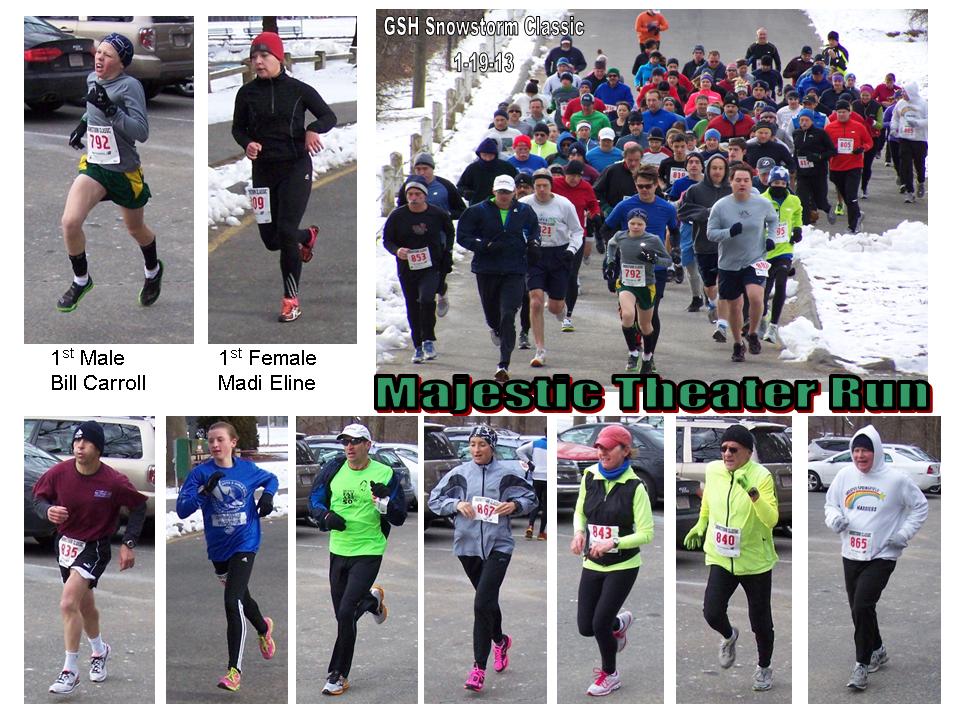 - Photo courtesy of Jim Gurzenski


| | | | | | | |
| --- | --- | --- | --- | --- | --- | --- |
| 1 | Bill Carroll | GSH | 12 | 1 M 0-19 | 19:26 | 6:16/M |
| 2 | Nathan Santerre | | 32 | 1 M 20-39 | 20:07 | 6:29/M |
| 3 | Scott Rossi | GSH | 49 | 1 M 40-49 | 20:14 | 6:32/M |
| 4 | Doug Guertin | GSH | 49 | 2 M 40-49 | 20:23 | 6:35/M |
| 5 | Steve Virgadaula | GSH | 52 | 1 M 50-59 | 20:37 | 6:39/M |
| 6 | Mark Barile | | 30 | 2 M 20-39 | 20:42 | 6:41/M |
| 7 | Gary Gray | | 36 | 3 M 20-39 | 20:52 | 6:44/M |
| 8 | Frank Rucki Jr. | GSH | 63 | 1 M 60-69 | 21:07 | 6:49/M |
| 9 | John Bigos | GSH | 59 | 2 M 50-59 | 21:17 | 6:52/M |
| 10 | Dan McNair | GSH | 38 | 4 M 20-39 | 21:40 | 6:59/M |
| 11 | Madi Eline | | 14 | 1 F 0-19 | 21:40 | 6:59/M |
| 12 | David Hanson | | 52 | 3 M 50-59 | 21:42 | 7:00/M |
| 13 | Julie Carroll | GSH | 14 | 2 F 0-19 | 21:43 | 7:00/M |
| 14 | Jeffrey McCarthy | | 37 | 5 M 20-39 | 21:47 | 7:02/M |
| 15 | Derek Napoli | | 31 | 6 M 20-39 | 21:53 | 7:04/M |
| 16 | Max Heaton | | 15 | 2 M 0-19 | 22:12 | 7:10/M |
| 17 | Sean Wandrei | | 38 | 7 M 20-39 | 22:42 | 7:19/M |
| 18 | David Bruton | | 53 | 4 M 50-59 | 22:47 | 7:21/M |
| 19 | Kathy McCarthy | GSH | 54 | 1 F 50-59 | 22:49 | 7:22/M |
| 20 | Vinnie Napoli | | 32 | 8 M 20-39 | 22:54 | 7:23/M |
| 21 | Craig Plante | | 56 | 5 M 50-59 | 22:59 | 7:25/M |
| 22 | Dave Martula | SMAC | 67 | 2 M 60-69 | 23:03 | 7:26/M |
| 23 | Ashton Demas | | 27 | 9 M 20-39 | 23:08 | 7:28/M |
| 24 | Matt Bruton | | 25 | 10 M 20-39 | 23:09 | 7:28/M |
| 25 | Jeff Brackett | | 48 | 3 M 40-49 | 23:10 | 7:28/M |
| 26 | Nathan Rush | | 14 | 3 M 0-19 | 23:14 | 7:30/M |
| 27 | Alex Ameen | | 22 | 1 F 20-39 | 23:15 | 7:30/M |
| 28 | Curtis McAnally | | 26 | 11 M 20-39 | 23:15 | 7:30/M |
| 29 | John Pashko | GSH | 61 | 3 M 60-69 | 23:16 | 7:30/M |
| 30 | Dan Laprade | | 50 | 6 M 50-59 | 23:17 | 7:31/M |
| 31 | Bob Viereck | | 64 | 4 M 60-69 | 23:21 | 7:32/M |
| 32 | Mark Laudati | GSH | 54 | 7 M 50-59 | 24:02 | 7:45/M |
| 33 | David Aronson | | 57 | 8 M 50-59 | 24:05 | 7:46/M |
| 34 | Bill Thibault | EORC | 55 | 9 M 50-59 | 24:07 | 7:47/M |
| 35 | Tom DeLuca | GSH | 57 | 10 M 50-59 | 24:11 | 7:48/M |
| 36 | Cynthia Metcalf | | 39 | 2 F 20-39 | 24:16 | 7:50/M |
| 37 | Henry Domnarski | | 14 | 4 M 0-19 | 24:23 | 7:52/M |
| 38 | Gerry Kane | | 61 | 5 M 60-69 | 24:32 | 7:55/M |
| 39 | Betty Quinn | | 62 | 1 F 60-69 | 24:36 | 7:56/M |
| 40 | Naomi Tetherly | EORC | 37 | 3 F 20-39 | 24:37 | 7:56/M |
| 41 | Mary Guertin | GSH | 46 | 1 F 40-49 | 25:14 | 8:08/M |
| 42 | William Lodi | GSH | 42 | 4 M 40-49 | 25:15 | 8:09/M |
| 43 | Stephanie Yeomans | | 44 | 2 F 40-49 | 25:17 | 8:09/M |
| 44 | Jay Stock | | 41 | 5 M 40-49 | 25:27 | 8:13/M |
| 45 | Steve Richardson | | 52 | 11 M 50-59 | 25:31 | 8:14/M |
| 46 | Kathy Dusel | GSH | 58 | 2 F 50-59 | 25:35 | 8:15/M |
| 47 | Taylor Field | | 29 | 4 F 20-39 | 25:49 | 8:20/M |
| 48 | John Cooper | | 54 | 12 M 50-59 | 25:57 | 8:22/M |
| 49 | Maura Fenney | | 29 | 5 F 20-39 | 25:59 | 8:23/M |
| 50 | Jon Miller | | 27 | 12 M 20-39 | 26:12 | 8:27/M |
| 51 | Paul Josefczyk | | 50 | 13 M 50-59 | 26:14 | 8:28/M |
| 52 | Bryon Dailey | GSH | 58 | 14 M 50-59 | 26:16 | 8:28/M |
| 53 | Donovan O'Kane | | 9 | 5 M 0-19 | 26:22 | 8:30/M |
| 54 | John Williams | GRR | 41 | 6 M 40-49 | 26:24 | 8:31/M |
| 55 | Winston Nunes | GSH | 64 | 6 M 60-69 | 26:32 | 8:34/M |
| 56 | George Wells | | 55 | 15 M 50-59 | 26:38 | 8:35/M |
| 57 | Dan Lunardini | | 46 | 7 M 40-49 | 26:44 | 8:37/M |
| 58 | Rebecca Reznik-Zellen | | 40 | 3 F 40-49 | 26:44 | 8:37/M |
| 59 | Greg Matthews | | 30 | 13 M 20-39 | 26:47 | 8:38/M |
| 60 | James Liebel | GSH | 64 | 7 M 60-69 | 26:57 | 8:42/M |
| 61 | Mark CHMIEL | | 47 | 8 M 40-49 | 27:00 | 8:43/M |
| 62 | Michael Burnham | | 30 | 14 M 20-39 | 27:26 | 8:51/M |
| 63 | Cindy Francis | | 48 | 4 F 40-49 | 27:35 | 8:54/M |
| 64 | Kim Murphy | | 50 | 3 F 50-59 | 27:35 | 8:54/M |
| 65 | Brian Goddu | GSH | 63 | 8 M 60-69 | 27:40 | 8:55/M |
| 66 | Heather Lowe | GSH | 40 | 5 F 40-49 | 27:49 | 8:58/M |
| 67 | Sally Harbilas | EORC | 54 | 4 F 50-59 | 27:51 | 8:59/M |
| 68 | Ben Mattheis | HTC | 59 | 16 M 50-59 | 27:52 | 8:59/M |
| 69 | Stacee Crane | | 42 | 6 F 40-49 | 28:28 | 9:11/M |
| 70 | Jane Patterson | | 42 | 9 M 40-49 | 28:36 | 9:14/M |
| 71 | Jackie Rosner | | 39 | 6 F 20-39 | 28:37 | 9:14/M |
| 72 | Justine Cadieux | | 25 | 7 F 20-39 | 29:05 | 9:23/M |
| 73 | Byran MacDonald | | 38 | 15 M 20-39 | 29:13 | 9:25/M |
| 74 | Nancy Jacy | GRR | 49 | 7 F 40-49 | 29:34 | 9:32/M |
| 75 | Jennifer Roy | | 39 | 8 F 20-39 | 29:38 | 9:34/M |
| 76 | Jon Gray Williams | | 41 | 10 M 40-49 | 29:38 | 9:34/M |
| 77 | Laura Galvin | GSH | 43 | 8 F 40-49 | 29:41 | 9:35/M |
| 78 | Shannon Duncan | | 30 | 9 F 20-39 | 29:45 | 9:36/M |
| 79 | Tom Coleman | | 54 | 17 M 50-59 | 29:46 | 9:36/M |
| 80 | Jack Swift | | 54 | 18 M 50-59 | 30:11 | 9:44/M |
| 81 | Robert Osgood | | 48 | 11 M 40-49 | 30:50 | 9:57/M |
| 82 | Bernice Pratt | GRR | 55 | 5 F 50-59 | 31:05 | 10:02/M |
| 83 | Laura Tierney | | 48 | 9 F 40-49 | 31:27 | 10:09/M |
| 84 | Renee Lodi | | 34 | 10 F 20-39 | 31:59 | 10:19/M |
| 85 | John Post | | 28 | 16 M 20-39 | 32:00 | 10:19/M |
| 86 | Becky Post | | 26 | 11 F 20-39 | 32:04 | 10:21/M |
| 87 | Dick Osgood | GSH | 75 | 1 M 70-99 | 32:08 | 10:22/M |
| 88 | Richard Zbrozek | HTC | 66 | 9 M 60-69 | 32:15 | 10:24/M |
| 89 | Lindsay Morgan | GRR | 28 | 12 F 20-39 | 32:31 | 10:29/M |
| 90 | Meredith Young | GRR | 27 | 13 F 20-39 | 32:35 | 10:31/M |
| 91 | Danielle Hall | | 26 | 14 F 20-39 | 33:07 | 10:41/M |
| 92 | Peter Vangsness | GSH | 61 | 10 M 60-69 | 33:26 | 10:47/M |
| 93 | Larry Josiah | | 47 | 12 M 40-49 | 34:33 | 11:09/M |
| 94 | Ray Wilis | SMAC | 83 | 2 M 70-99 | 36:03 * | 11:38/M |
| 95 | Pete Stasz | GSH | 65 | 11 M 60-69 | 42:45 | 13:47/M |
| 96 | Bruce Kurtz | GSH | 76 | 3 M 70-99 | 59:34 | 19:13/M |
  * AGE RECORDS