Western Mass Distance Project duo defend last week's titles

Dennis Roche
adds a 4th Snowstorm Classic victory while Dawn Roberts notches win #42 !
As race times indicate, today's runners had to diligently work their way around the 10k course as much of it was covered in six inches of snowfall. A pair of WMDP runners, Dennis Roche and Mark Rabasco, slowly pulled away from the field of plus 60 before Mark decided it was just too treacherous a day to risk slipping or injury and left Dennis to solo the final miles en route to the 2nd slowest winning time ever!

Today's winning time of 43:21 was only faster than the 1:21:27 time recorded after the epic super-storm Nemo run of Feb '13 which dropped two feet of snow on New England in the overnight. Only Steve O'Neil and Carolyn Dekker, residing close enough in proximity, were able to make it to Forest Park. The two ran the 10km course together stride for stride running in solidarity with each other, keeping the Snowstorm Classic never-been-cancelled streak intact.

This was the first week in the point series. Coming out on top at the end of week ten will take as much perseverance as it does speed. That couldn't be demostrated any better than it was today. Making the commute to Forest Park took patience. Trudging thru the snow for 6.2 miles required stamina along with a strong will and able body. Missing a week usually proves quite costly and rarely does a runner overcome even a single week's loss in points. Time will tell how much the early lead of Dennis Roach, Mark Rabasco and Bruce Christensen in the male standings - and Dawn Roberts, Colleen Cummings and Audrey Boraski lead in the female standings, will play out.

Western Mass Distance Project edges out a 49:24 to 51:44 decision over the Greater Springfield Harrier squad.
A big thanks to all the volunteers today for gutting it out on a cold and very wintery day.
Many, many thanks to Peter Fratini, Craig Balderston, Brian Goddu, Peter Vangsness, Neal Lamberton, Doug Geurtin, Mary Guertin and Race Director Art Roberts
Apologies if I forget anyone..
And many thank to Craig Balderston, Jim Liebel and one other whoose name I'm forgetting for helping me get my car unstuck after the race!
- Robert Landry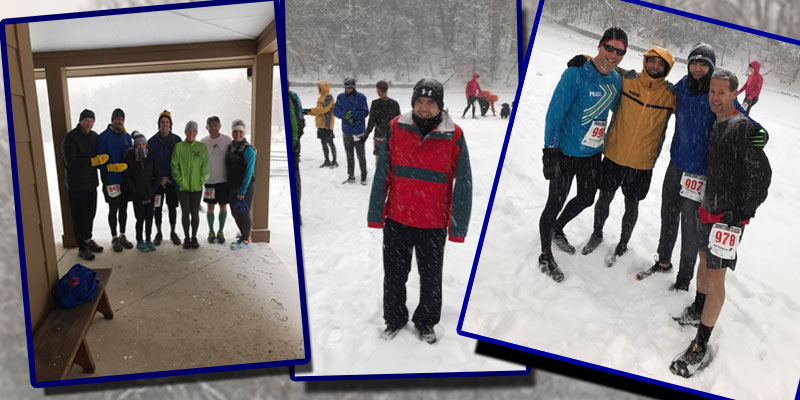 Staff Phtographer Jim Gurzenski is on early holiday, so this week's photo is courtesy of Dan McNair
                                             37th Annual Snowstorm Classic                                              
                                            Race# 467, Week 3 of 13 - 10km          
                                           Week #1 of 10-Week Point Series                                   
                                              Saturday December 17, 2016                                               
                                             Forest Park, Springfield, MA                                              
                              USATF Course Certifciations: 5km #MA12049JK, 10km #MA12048JK                              
                                                           -                                                            
                                         Hosted by Greater Springfield Harriers                                         
                          http://www.harriers.org/SnowStorm/index.html  snowstorm@harriers.org                          

Place            Name             Bib#  Div/Tot    Div   Ag   Time    Pace     Club    Points                           
=====  =========================  ====  ========  =====  ==  =======  =====  ========  ======                           
    1  Dennis Roche                182      1/14  M2039  30    43:21   6:59  WMDP        1000                           
    2  Mark Rabasco                446      2/14  M2039  22    45:59   7:25  WMDP         942                           
    3  Bruce Christensen           978      1/14  M4049  48    47:01   7:34               922                           
    4  Michael Gauvin              953      2/14  M4049  41    48:10   7:46  GSH          900                           
    5  Matthew Killian             448      3/14  M2039  36    48:40   7:50               890                           
    6  Ryan Merceri                967      4/14  M2039  28    49:29   7:58  GSH          876                           
    7  Norm Fuller                 120      1/13  M5059  57    49:39   8:00  WMDP         873                           
    8  Matt Geanacopoulos          162      5/14  M2039  28    49:48   8:01  WMDP         870                           
    9  Perbet Nicolas              450      6/14  M2039  30    50:58   8:13               850                           
   10  Ken Clark                    22      2/13  M5059  54    51:02   8:13  HTC          849                           
   11  John Minervino              443      3/13  M5059  53    51:17   8:16  SR           845                           
   12  Steve Virgadaula            956      4/13  M5059  56    52:39   8:29  GSH          823                           
   13  Dan McNair                  907      3/14  M4049  42    53:17   8:35  GSH          813                           
   14  Colby Currie                218      7/14  M2039  32    54:03   8:42               802                           
   15  Brock Currie                976      8/14  M2039  34    54:26   8:46               796                           
   16  Mike Lescarbeau             962      4/14  M4049  45    54:46   8:49  GSH          791                           
   17  Tom Starodaj                444      9/14  M2039  29    55:24   8:55               782                           
   18  Shawn Rairigh               451      5/14  M4049  41    55:26   8:56               782                           
   19  Joe Nichols                 990      6/14  M4049  49    56:50   9:09  EORC         762                           
   20  Richard Clark               100      1/12  M6069  62    57:05   9:12  GSH          759                           
   21  Dawn Roberts                456      1/04  F4049  44    58:12   9:22  WMDP         744                           
   22  Colleen Cummings            981      1/04  F5059  50    58:42   9:27  GSH          738                           
   23  David Abbott                950      5/13  M5059  54    59:24   9:34  GSH          729                           
   24  Bobby Viereck               454      2/12  M6069  68    59:41   9:37               726                           
   25  Matt Smith                  607     10/14  M2039  35  1:00:38   9:46               714                           
   26  Jeff Harrington             909      7/14  M4049  46  1:00:58   9:49  EORC         711                           
   27  Doug Guertin                 56      6/13  M5059  53  1:01:18   9:52  GSH          707                           
   28  Jim Ryan                    915      3/12  M6069  64  1:01:31   9:55               704                           
   29  Adam Osmond                 445      8/14  M4049  49  1:01:38   9:56  HTC          703                           
   30  Gerry Kane                  122      4/12  M6069  65  1:02:32  10:04               693                           
   31  Audrey Boraski              447      1/01  F0119  18  1:03:07  10:10               686                           
   32  Kevin Tranberg              970      9/14  M4049  48  1:03:51  10:17  HTC          678                           
   33  Peter Briggeman             969      7/13  M5059  59  1:03:53  10:17  HTC          678                           
   34  Steve O'Neil                986      5/12  M6069  65  1:03:55  10:18  GSH          678                           
   35  Pete Westover               134      1/01  M7099  72  1:05:29  10:33  SMAC         662                           
   36  Bob Koonz                   455     11/14  M2039  31  1:05:46  10:36               659                           
   37  Jenny Koonz                 190      1/02  F2039  28  1:05:50  10:36               658                           
   38  Tony Park                   959      8/13  M5059  51  1:06:17  10:41  EORC         654                           
   39  Scott Snaderson             453      9/13  M5059  53  1:06:40  10:44               650                           
   40  Craig Plante                897      6/12  M6069  60  1:06:41  10:44               650                           
   41  Mary Guertin                 57      2/04  F5059  50  1:07:22  10:51  GSH          643                           
   42  Tom Deluca                  974      7/12  M6069  61  1:07:23  10:51  GSH          643                           
   43  Derek Bushey                958     12/14  M2039  32  1:07:33  10:53               641                           
   44  Ashton Demas                145     13/14  M2039  30  1:07:44  10:55               640                           
   45  Doug Bielefeld              975     10/13  M5059  57  1:07:44  10:55  GSH          640                           
   46  Lauren Koester             1003      2/04  F4049  40  1:08:04  10:58               636                           
   47  Jason Snukis                449     14/14  M2039  37  1:08:15  11:00               635                           
   48  Rusty Sherman               452      8/12  M6069  60  1:08:20  11:00  GSH          634                           
   49  Sean Wandrei                802     10/14  M4049  42  1:08:24  11:01               633                           
   50  Chris Thornton              940     11/14  M4049  43  1:08:32  11:02               632                           
   51  Tim Londo                   217     11/13  M5059  51  1:08:33  11:02  GSH          632                           
   52  Pete Campbell               632     12/13  M5059  52  1:08:50  11:05               629                           
   53  Stephanie Yeomans            44      3/04  F4049  48  1:09:26  11:11  GSH          624                           
   54  Tom Walsh                   153      9/12  M6069  61  1:11:55  11:35  HTC          602                           
   55  Leeann Cerpovicz           1002      3/04  F5059  54  1:12:44  11:43               596                           
   56  Renee Lodi                  185      2/02  F2039  38  1:12:57  11:45               594                           
   57  Joe Giannetti               183     12/14  M4049  49  1:13:23  11:49               590                           
   58  Bill Lodi                    53     13/14  M4049  46  1:13:24  11:49  GSH          590                           
   59  Jorge Sosa                   46     14/14  M4049  40  1:17:49  12:32               557                           
   60  Norm Cormier                179     10/12  M6069  63  1:23:36  13:28  SS           518                           
   61  Kristine Valentini           45      4/04  F4049  46  1:25:08  13:43               509                           
   62  Dave Haryasz                668     13/13  M5059  58  1:25:53  13:50               504                           
   63  Brian Goddu                   2     11/12  M6069  67  1:27:12  14:03  GSH          497                           
   64  Darlene Watson               17      4/04  F5059  55  1:33:21  15:02  EORC         464                           
   65  James Liebel                964     12/12  M6069  68  1:41:00  16:16               429                           




                                  TEAM RESULTS                                  
====================================================================================================
                                            TEAM RESULTS                                            
                          COMBINED GENDER, ALL AGES,  SCORE BY TIME TOP 5                           
====================================================================================================

  1.   26   WMDP Western Mass Distance Project  (  49:24   4:06:59  14:51)
============================================================
  1     1   Dennis Roche                  M 30     43:21
  2     2   Mark Robasco                  M 22     45:59
  3     5   Norm Fuller                   M 57     49:39
  4     6   Matt Geanacopoulos            M 28     49:48
  5    12   Dawn Roberts                  F 44     58:12

  2.   34   GSH Greater Springfield Harriers    (  51:41   4:18:21   6:36)
============================================================
  1     3   Michael Gauvin                M 41     48:10
  2     4   Ryan Merceri                  M 28     49:29
  3     8   Steve Virgadaula              M 56     52:39
  4     9   Dan McNair                    M 42     53:17
  5    10   Mike Lescarbeau               M 45     54:46
  6  ( 11)  Richard Clark                 M 62  (  57:05)
  7  ( 13)  Colleen Cummings              F 50  (  58:42)
  8  ( 14)  David Abbott                  M 54  (  59:24)

  3.   73   HTC Hartford Track Club             (1:02:28   5:12:19  20:53)
============================================================
  1     7   Ken Clark                     M 54     51:02
  2    15   Adam Osmond                   M 49   1:01:38
  3    16   Kevin Tranberg                M 48   1:03:51
  4    17   Peter Briggeman               M 59   1:03:53
  5    18   Tom Walsh                     M 61   1:11:55

            EORC Empire One Running Club        (              :00       )
============================================================
  1  (  0)  Joe Nichols                   M 49  (  56:50)
  2  (  0)  Jeff Harrington               M 46  (1:00:58)
  3  (  0)  Tony Park                     M 51  (1:06:17)
  4  (  0)  Darlene Watson                F 55  (1:33:21)

            SMAC Sugarloaf Moutain Athletic Cl  (              :00       )
============================================================
  1  (  0)  Pete Westover                 M 72  (1:05:29)

            SR Sound Runners                    (              :00       )
============================================================
  1  (  0)  John Minervino                M 53  (  51:17)

            SS Shenipsit Striders               (              :00       )
============================================================
  1  (  0)  Norm Cormier                  M 63  (1:23:36)

REPORT DATE: 12/18/2016 9:41:58 PM

Results produced by Rob Landry & Greater Springfield Harriers