USA Masters 5K Road running Championship
October 2, 2016
http://www.usatf.org/Events---Calendar/2016/USATF-Masters-5-km-Championships/Results.aspx
        USATF NATIONAL MASTERS MEN'S 50+ TEAM RESULTS
----------------------------------------------------------------------------

  1.   49:39 GREATER SPRINGFIELD HARRIERS, INC       (  16:33)
==================================================
  1    15:57  Nat Larson            54 Amherst              MA 
  2    16:37  Francis Burdett       51 Worcester            MA 
  3    17:05  Ron Lombardi          52 Southington          CT 
We wanted to give a shout out to our Greater Springfield Harrier masters 50 + Team. They won 1st place for the Greater Springfield Harriers over the weekend. Great job guys you are an inspiration and thanks for supporting the team.

Part-time sales position:
Fast Feet is currently seeking a part time sales
associate. You will be required to work 15-25 hours per week. The hours we are looking to fill would be Wednesday, Thursday and Friday from 5-8. You will also be required to work Saturday and Sunday. Knowledge of running and sales preferred. A positive and confident attitude a must! Pay rate based on experience. If you love running you will love working for Fast Feet.
Apply in person at 231 Elm St., West Spfld., or send resume to fastfeetinc@comcast.net




Monday, July 4, 2016
click here for more information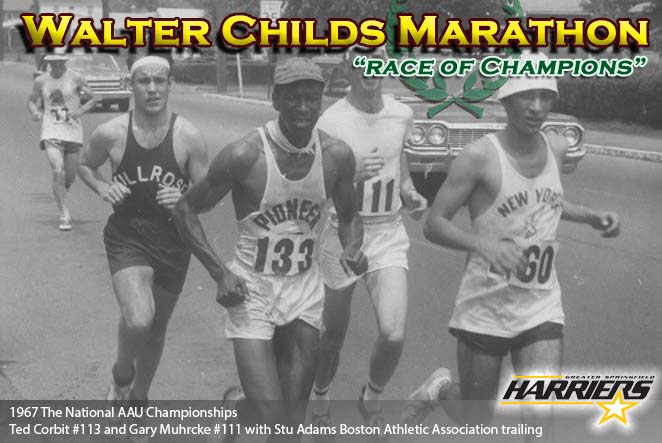 54th Walter Childs Marathon and Half-Martathon
Sunday May 1st
2016 Results here

USATF Masters Championships
Dedham, MA, April 24, 2016
http://www.ramble.org/index.cfm?pid=11164
The Greater Springfield Harriers had an awesome showing today at the James Joyce Ramble. We scored a fourth place in the menís 40+ and a first place in the menís 50+. If anybody has pictures let me know and I will post them. Great job guys!
----------------------------------------------------------------------------
4. 1:50:31 GREATER SPRINGFIELD HARRIERS, INC ( 36:51)
==================================================
1 34:28 Kent Lemme Pittsfield MA GREATER SPRINGFIELD HARRIERS

2 36:20 Robert Landry Ludlow MA GREATER SPRINGFIELD HARRIERS
3 39:43 Mark Staples Holyoke MA GREATER SPRINGFIELD HARRIERS
-----------------------------------------------------------------------------
1. 1:45:01 GREATER SPRINGFIELD HARRIERS, INC ( 35:01)
==================================================
1 33:51 Nat Larson Amherst MA GREATER SPRINGFIELD HARRIERS
2 34:32 Francis Burdett Worcester MA GREATER SPRINGFIELD HARRIERS
3 36:38 Ron Lombardi Southington CT GREATER SPRINGFIELD HARRIERS

4 ( 37:38) Alejandro Heuck Amherst MA GREATER SPRINGFIELD HARRIERS
5 ( 38:01) Peter Fratini Westfield MA GREATER SPRINGFIELD HARRIERS